Event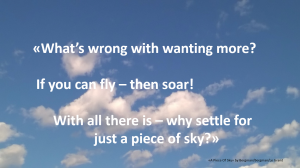 Reduce stress in 4 steps and recharge your batteries in less than 5 minutes
 Are you stressed?
                  Do you not sleep enough? Do you sleep badly
Do you always have the same thoughts swirling in your head?
Everyone knows the pressures, heaviness, or anxieties which, day by day, can take away the joy of life.
Fortunately, EFT (Emotional Freedom Technique – or "tapping") is a tool that can help restore you. Like acupuncture, EFT works on the source of the problem and balances the body's energies, giving it a sense of relaxation and general wellbeing.
You are invited to an evening info meeting where you will be able to immediately apply this self-help tool.
Where: EFT Ticino, c/o Studio l'Ulivo, Via Muro della Rossa 16, 6600 Locarno
When: every 1st and 3rd Tuesday of the month
What time: 7:30 – 8:15 p.m.
Costs: CHF 25.00